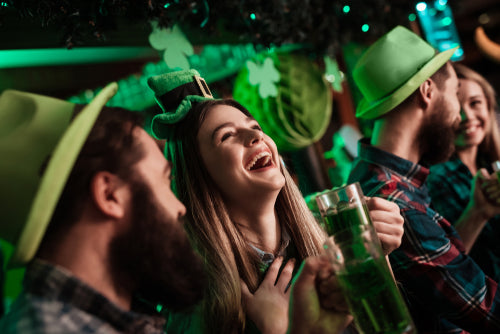 Go Green & Glam for St. Paddy's Day with These Items from Time After Time
Luck of the Irish to you! 'Tis the time to get your green on and do a jig. St. Paddy's Day weekend is upon us and you want to make sure that you are decked and ready to celebrate from head to toe. Many revelers of St. Patrick's get the good times rolling at a local parade complete with Irish step dancers and bagpipers in kilts. Or, they hit the local pub for a few pints with their mates. No matter how you decide to spend your St. Patrick's Day, looking and feeling festive keeps you in the party-mood no matter what.
Time After Time, a top watch repair and retail store, is the ultimate resource of stylish accessories for every occasion. Whether it's a bangle bracelet or statement watch, show your Irish pride with absolute style. Step out with all that glitters and glistens to be the loveliest lass in all the land, or the most elegant lad on the green. Time After Time has the perfect pieces to accessorize your St. Paddy's outfit and make you feel like you've discovered the pot of gold at the end of the rainbow!
PANDORA Green Lucky Clover Charm. A beautiful piece incorporating gorgeous dark green cubic zirconias in stunning sterling silver facets is the perfect accent to any PANDORA bracelet or necklace. Add some bling to your wrist and a little jig to your step with this lovely piece.
PANDORA Lucky Day Dangle Charm. As luck has it, this delightful charm from PANDORA is available at Time After Time for St. Paddy's. Incorporating crystal clear cubic zirconia with sterling silver in the shape of a shamrock and horseshoe will give you all of the luck in the world. Your PANDORA bracelet or necklace will sparkle and shine with this beguiling piece.
Alex And Ani Four Leaf Clover Charm Bangle. Complete with a stunning Rafaelian Gold finish, this bangle carries the charms of Blessing, Fortune, and Prosperity. Good fortune is bestowed upon anyone who is lucky enough to discover a four leaf clover and the owner of this sassy bracelet.
G-Shock Analog-Digital. A new addition to the G-SHOCK G-LIDE collection of surf watches, this timepiece offers a funky and fun alternative with flair that is the right fit for your uniquely awesome personality. Who needs luck when you have style?! Sporting this green timekeeper makes a statement about who you are and how you live your life.
Nixon Sentry SS, 42 mm. This watch is the personification of utter elegance and sophistication. A lustrous gold finish on this stainless steel timepiece with its green sunray face is a bold accessory to rock this St. Paddy's.
With St. Patrick's Day upon us, Time After Time offers exceptional variety and value of men's and women's accessories, along with reliable and fast watch repair for your timepiece. Call 888-552-5997 or stop by your local Time After Time shop to get the party started!