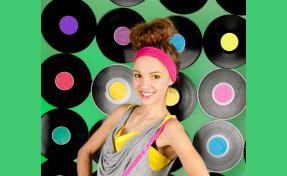 Take Your Halloween Costume to the Next Level with Time After Time
With Halloween just around the corner, it's time to put the finishing touches on your costume. Get your makeup together, find the perfect pair of shoes for your outfit, and try everything on one last time to make sure it all comes together as it should because going the extra mile is critical for creating a costume that is a true showstopper.
At Time After Time, we want to help you create the ultimate Halloween costume, which is why we're sharing a few accessories that can help take your costume to the next level. In fact, check out the list below to get some ideas and stop into your local Time After Time today to complete your outfit before Halloween!
Ray-Ban Aviator Gradient Sunglasses for a Cop Costume
Are you above the law? Maybe not, but you are above cheap costume accessories. If you're planning to dress as an officer of the law this Halloween, a pair of fresh new Ray-Ban sunglasses will separate your costume from the crowd.
Baby-G Origin Series Watch for a 90s Girl Costume
Think your 90s girl costume is all that and a bag of chips? As if! Without an accessory like this totally rad Baby-G to make your outfit pop, your 90s costume can easily fall flat.
Fossil Watch for a Businessman Costume
Let's get down to business. You want to look legit at your Halloween party. Your businessman costume is all planned out, from your shirt, tie, and jacket down to your polished shoes and briefcase. Now close the deal and bring it all together with a clean new Neutra Chronograph Stainless Steel Watch from Fossil.
Nixon Watch for a Disney Costume
If you're going as Mickey or Minnie this Halloween, a sleek Sentry Leather watch from Nixon featuring the world's most famous mouse can elevate your costume and drive the Disney theme home.
Alex And Ani Bracelet for a Harry Potter Costume
I solemnly swear I am up to no good. At least that's what you should say if you're trying to cut corners on your Harry Potter-themed costume this year. If you're looking to dress as The Boy Who Lived or another character from the wizarding world, this Alex And Ani Deathly Hallows expandable charm bangle is the ultimate costume accessory.
Whether you need an eye-catching accessory for your Halloween costume or need a professional watch band repair company you can trust for your most expensive watches, Time After Time has you covered. With an incredible selection of products and a team of expert repair technicians to handle any watch band replacement or watch repair, Time After Time is the company you can count on.
Visit your local Time After Time today and explore our entire selection of designer watches, jewelry, sunglasses, and more!